Well I LOVE pancakes…there I admitted it!  They are my most favorite breakfast with the exception of scones but they are usually so carb and calorie laden that I rarely treat myself to them.  I was surfing for a great new Holiday recipe for you all and found this!  I had to share.  Not only are they "Holidayish" but they really aren't too bad.  Pair 1-2 of them with a protein (eggs work great) and you will be fine.
With the holiday baking most of us have a left over can of pumpkin puree so why not put it to use in breakfast. But we are trying to keep things healthy using whole wheat flower and adding some ground chia seeds into the mix. The outcome is tasty and filling, I might add. Topped with maple yogurt and toasted pecans, these pancakes were a seasonal delight.
Check out the recipe and calorie count.
Ingredients
1 cup whole wheat flour
1/4 cup ground chia seeds (can use flax meal)
1 tablespoon of sugar
2 teaspoons baking powder
1/2 teaspoon cinnamon
1/2 teaspoon ground ginger
1/8 teaspoon nutmeg
pinch of ground cloves
1 cup 2 percent milk
6 tablespoons canned pumpkin puree
2 tablespoons canola oil
1 egg
Directions
In a large bowl whisk together all the dry ingredients.
In a separate bowl, stir together milk, pumpkin puree, oil, and egg.
Fold wet mixture into dry ingredients.
Oil a skillet over medium heat; pour in 1/4 cup batter for each pancake. Cook pancakes about 3 minutes per side; serve with toasted pecans and maple yogurt.
Makes between 8 and 10 pancakes.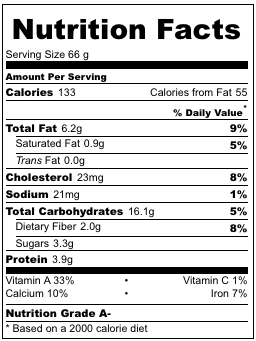 Enjoy!!!
Recipe taken from http://www.fitsugar.com/Pumpkin-Pancake-Recipe-12521266